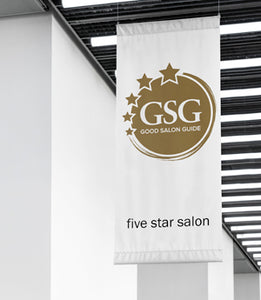 Good Salon Guide's window drops are made from a tough and durable butterfly mesh fabric and proudly displays your salon's rating. The drops come in three different styles and have fitting adjustments included.
For easy fitting, we will supply you with two round adhesive hanging buttons (2cm) and two wire extending hooks (extends up to 1m).
We will contact you to discuss the image(s) you'd like on the drops. 
Size: 1200mm (h) by 600mm (w)
For Good Salon Guide members only